International Training Course
Last Updated : May 1, 2018
For CCOP Member Countries
GSJ International Training Course on Practical Geological Survey Techniques 2018
- application to geological disaster mitigation-
26 June - 13 July 2018
Announcements
Application Deadline: 20 April 2018 (Closed)
Introduction of the GSJ International Training Course [pdf(460KB)]
Application Form [zip(330KB)]
Tentative Program (as of 27 Apr 2018)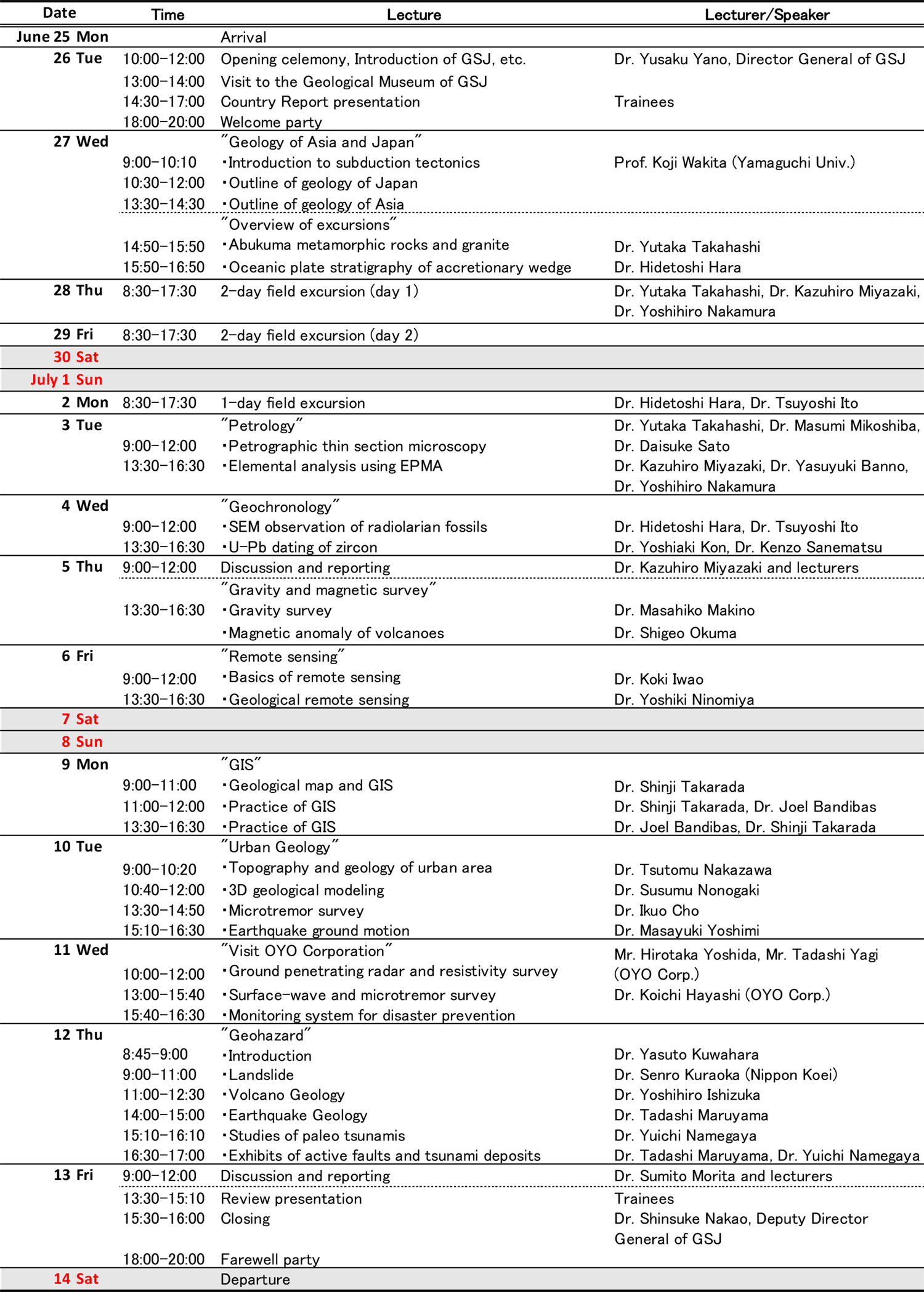 [pdf(31KB)]
Lecturers
Section 1: Practical geological survey techniques for accretionary geology
- Dr. Kazuhiro Miyazaki (Geology, GSJ)
- Dr. Yutaka Takahashi (Petrology, GSJ)
- Dr. Yoshihiro Nakamura (Geology, GSJ)
- Dr. Daisuke Sato (Geology, GSJ)
- Dr. Yasuyuki Banno (Geology, GSJ)
- Dr. Masumi Mikoshiba (Petrology, GSJ)
- Dr. Hidetoshi Hara (Geology, GSJ)
- Dr. Tsuyoshi Ito (Paleontology, GSJ)
- Dr. Yoshiaki Kon (Geochemistry, GSJ)
- Dr. Kenzo Sanematsu (Mineral Resources, GSJ)
- Dr. Koji Wakita (Geology, Yamaguchi University)
Section 2: Exploration and analysis techniques
- Dr. Masahiko Makino (Geophysics, GSJ)
- Dr. Shigeo Okuma (Geophysics, GSJ)
- Dr. Koki Iwao (Remote Sensing, GSJ)
- Dr. Yoshiki Ninomiya (Remote Sensing, GSJ)
- Dr. Shinji Takarada (Geology, GSJ)
- Dr. Joel Bandibas (GIS Expert, GSJ)
Section 3: Application to geological disaster mitigation
- Dr. Tsutomu Nakazawa (Geology, GSJ)
- Dr. Susumu Nonogaki (Geoinformatics, GSJ)
- Dr. Ikuo Cho (Geophysics, GSJ)
- Dr. Masayuki Yoshimi (Earthquake engineering, GSJ)
- Dr. Yasuto Kuwahara (Seismology, GSJ)
- Dr. Tadashi Maruyama (Earthquake Geology, GSJ)
- Dr. Yuichi Namegaya (Tsunami, GSJ)
- Dr. Yoshihiro Ishizuka (Volcano Geology, GSJ)
- Dr. Koichi Hayashi (Near-surface geophysics, OYO Corporation)
- Mr. Hirotaka Yoshida (Sales & Marketing, OYO Corporation)
- Mr. Tadashi Yagi (Sales & Marketing, OYO Corporation)
- Dr. Senro Kuraoka (Landslide, Nippon Koei)
About ~70 min. by a limousine from the Narita International Airport.
Living Information
Accommodation
A single room will be provided for each trainee in the GSJ guest house "Sakura-kan".
 Sakura-kan [pdf(207KB)]
Restaurants and Shops
There are several cafeterias and a convenience store in AIST. Participants can eat breakfast, lunch and supper there. They can also go out for meals and shopping in the vicinity.
Weather and Clothing
June and July are rainy season in Japan. Heavy rain is not very common but it sometimes drizzles for days. Average maximum/minimum temperatures of July are 28℃ (82°F) / 23℃ (73°F) and humidity is 70 to 75%. Participants would be well-advised to bring an umbrella or a rain coat. Comfortable shoes are needed for the field excursions.
Time Zone
-1:00 Papua New Guinea
+0:00 Timor-Leste
+1:00 Malaysia, Philippines, Singapore
+2:00 Cambodia, Indonesia, Lao PDR, Thailand, Viet Nam
+2:30 Myanmar
Links: