Last Updated : March 11, 2019
International Training Course
GSJ International Training Course on Practical Geological Survey Techniques 2019
- Application to Geological Disaster Mitigation -
4 - 21 June 2019, Tsukuba
Announcements
Application Deadline: 28 February 2019 (Closed)
Introduction of the GSJ International Training Course 2019 [pdf(756KB)]
Application Form [zip(267KB)]
Tentative Program (as of Mar 2019)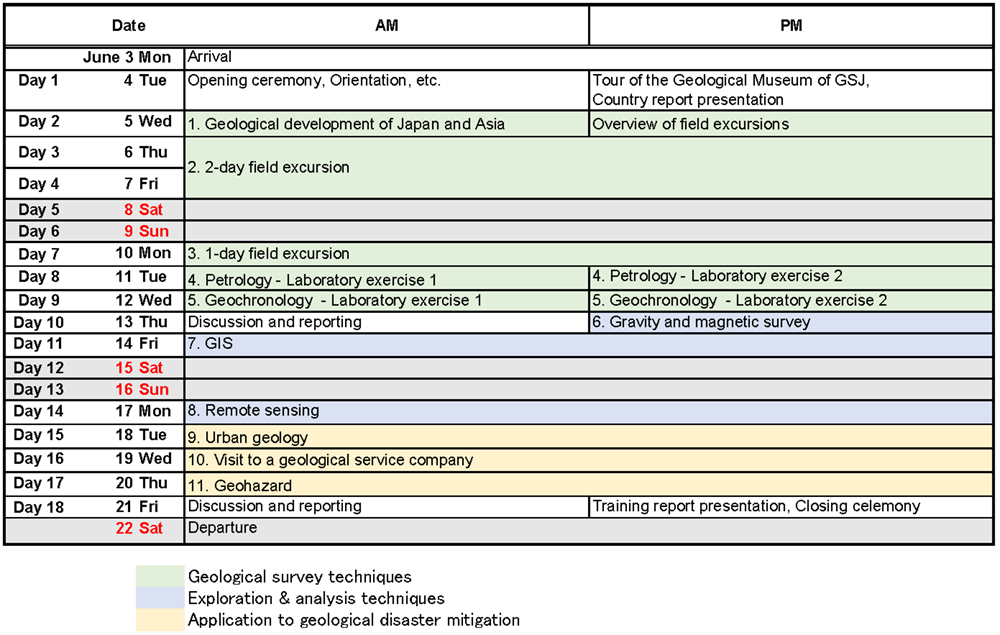 Lecturers (coming soon)
About ~70 min. by a limousine from the Narita International Airport to Tsukuba Center Bus Terminal.
Living Information
Accommodation
A single room will be provided for each trainee in the AIST guest house "Sakura-kan".
Sakura-kan [pdf]
Restaurants and Shops
There are several cafeterias and a convenience store in AIST. Participants can take breakfast, lunch and supper there. They can also go out for meals and shopping in the vicinity.
Weather and Clothing
June is rainy season in Japan. Heavy rain is not very common, but it sometimes drizzles for days. Average maximum/minimum temperatures of June are 26℃ (79°F)/17℃ (63°F) and humidity is 70 to 75%. Participants would be well-advised to bring an umbrella. A rain jacket and comfortable shoes are needed for the field excursions.
Electrical Equipment
In Japan the power plugs and sockets are of type A. The standard voltage is 100 V and the frequency is 50 Hz. Participants would be well-advised to bring adapters.
Time Zone
-1:00 Papua New Guinea
+0:00 Timor-Leste
+1:00 Malaysia, Mongolia, Philippines, Singapore
+2:00 Cambodia, Indonesia, Lao PDR, Thailand, Vietnam
+2:30 Myanmar
Links:
Geological Survey of Japan (GSJ)
National Institute of Advanced Industrial Science and Technology (AIST)
Official tourism website of Japan