AIST contributed to the establishment of JIS standard to evaluate the property of clay resource "bentonite"
-Revision of spot method and new establishment of colorimetric method-
Summary of AIST Press Release August 13, 2019
>>Japanese
 Bentonite is a clay that has useful property such as high degree of swelling, low water permeability and high cation exchange capacity. These properties come from those of smectite, the main component of bentonite. Therefore, bentonite is called "a useful clay in 1000 ways", for example, as water-blocking material in civil engineering work, binding material of casting sand, pet litter, additives in cosmetics, bath essence and toothpaste, etc.
 Because the property of bentonite varies depending on its locality, their property needs to be precisely evaluated before commercialization. Methylene blue (MB) test, the most popular evaluation method of bentonite, estimates the amount of smectite in the bentonite by determining the absorbed amount of MB cations onto the smectite surface. In Japan, the standard test method was established by the Japan Bentonite Manufacturers Association Standard (JBAS) in 1977 and revised in 1991. However, the JBAS method lacks detail description of the procedures, which often causes differences in results among the examiners. Recently, bentonite has been expected as a good barrier material in radioactive waste disposing facilities. Therefore, standardization of the method to evaluate the property of bentonite has been expected from both atomic energy industries and bentonite makers.
 Masaya Suzuki, Youko Miyoshi, Tetsuichi Takagi and Kazuya Morimoto (Research Institute of Geo-Resources and Environment) conducted the detailed study on two MB tests, spot method and colorimetric method and drafted the Japanese Industrial Standard (JIS) for the MB tests cooperating with other organizations including private companies. The JIS standard of the MB test was established on March 2019. The JIS standard consists of the spot method and the colorimetric method (Fig. 1). The spot method revised based on the JBAS method. The spot method has been used in most bentonite companies because the method is simple and quick. The colorimetric method had not been established by JBAS and was newly established by this standardization. The colorimetric method gives reproducible results comparing with the spot method.
The related study was published on January 2018 as below:
Miyoshi, Y., Tsukimura, K., Morimoto, K., Suzuki, M. & Takagi, T. (2018) Comparison of methylene blue adsorption on bentonite measured using the spot and colorimetric methods. Applied Clay Science, 151, 140-147.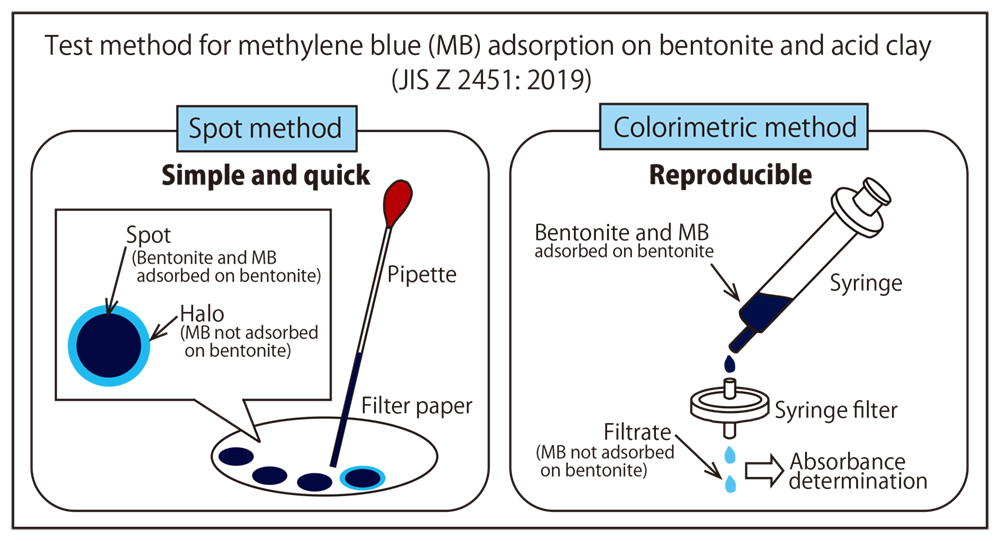 Fig. 1 Schematic image of the JIS standard of the MB test that consists of the spot method (left) and colorimetric method (right).