New technique to utilize an untapped mineral resource "green saprolite"
- For stable supply of ceramic raw materials -
Summary of AIST News Release February 4, 2019
>>Japanese
 Points of the research results
It has been clarified that "green saprolite" is weathered and kaolinized crust of granite.
The technique to utilize green saprolite as a ceramic raw material has been developed.
The stable supply of ceramic raw materials is expected by adding green saprolite to conventional kaolin clay resources.
Summary
 Tetsuichi Takagi and Yuki Tsunazawa (Research Institute for Geo-Resources and Environment, Geological Survey of Japan) investigated the field occurrence and characteristics of a low-grade and untapped mineral resource called "green saprolite (Aosaba in Japanese)" in the Seto district, central Japan and developed the technique to utilize it as a ceramic raw material in collaboration with Aichi Prefectural Association of Porcelain Industries, Aichi Prefectural Association of Silica sand Mining Industries, Gifu Ceramics Material Association, and Marufuji Mine.
 The investigation clarified that the green saprolite is weathered and kaolinized crust of granite beneath sedimentary kaolin clay deposit. The amount of minable ore is estimated to be several million tones based on the compilation of past drilling data. The technique to remove some amount of micas in green saprolite by elutriation and magnetic separation has been developed. The consumption of conventional kaolin clay in ceramics industry can be reduced by adding the refined green saprolite, which leads to longer life-span of active kaolin mines in the district. The results were published in the Bulletin of Geological Survey of Japan in October 2016 and American Mineralogist in July 2018.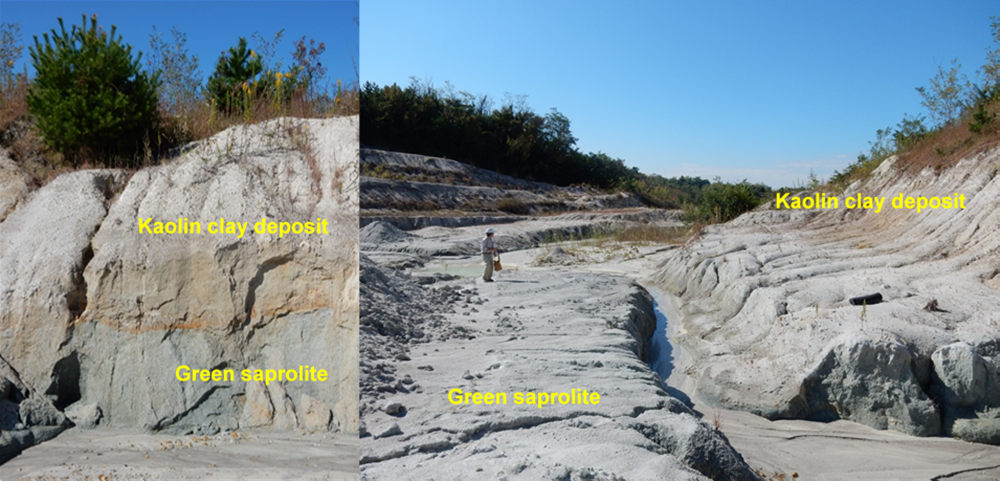 Green saprolite is embedded widely beneath kaolin clay deposits. Although it is rich in kaolin clay, it has never been mined due to the high content of impurities such as micas (photos: Akatsuki Mine, Seto City).

Calcination test proved the commercial potential of the green saprolite by Gifu Ceramics Material Association.
Non-plastic components in the green saprolite are not included in the percentage.