Director General Yusaku Yano and GSJ members attended the 2nd Trilateral GeoSummit on 20 June 2017
 Dr. Yusaku Yano, the Director General of GSJ, and 10 GSJ members attended the 2nd Trilateral GeoSummit in Jeju, Korea on June 20, 2017. The aims of GeoSummit are to promote the research cooperation between the Korea Institute of Geoscience and Mineral Resources (KIGAM), China Geological Survey (CGS), and Geological Survey of Japan (GSJ), and to play a leading role among Southeast Asian countries in the field of Geoscience. The 1st Trilateral GeoSummit was held in Beijing, China in April 2015, and three organizations decided to hold the meeting every two years. This time, around 80 experts and officials from the three countries attended the meeting. The Trilateral Cooperation Secretariat (TCS) was also invited to attend.
 During the 2nd Trilateral GeoSummit, the participants gave presentations and had discussions on research cooperation at four technical sessions on active fault, coastal geology, GIS, and gas hydrate. GSJ agreed to make a plan for joint researches including workshops and to have human/knowledge exchange in the all sessions except for gas hydrate. GSJ also signed an MOU with CGS to strengthen further cooperation. The 3rd Trilateral GeoSummit will be held in Japan in July 2019.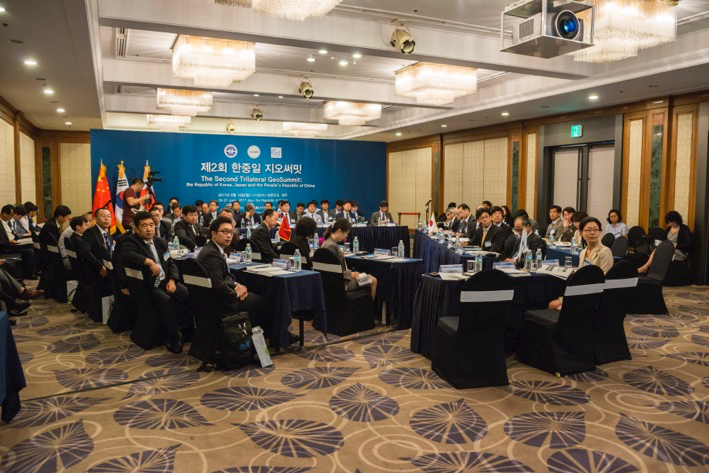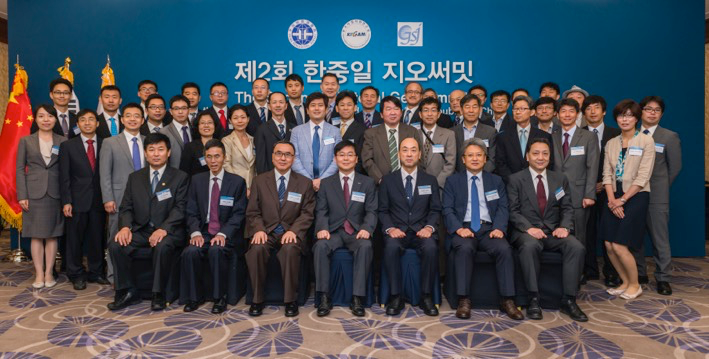 From left: Dr. Zhang Hongtao, the Counselor of State Council of P.R.China, Dr. Joong-Ho Synn, the President of KIGAM, and Dr. Yusaku Yano, the Director General of GSJ
photos courtesy of KIGAM