Geoinformation Service Center
2020. 9. 1
What is the Geoinformation Service Center?
The Geoinformation Service Center was established on April 1st, 2015. It inherits the missions of the pre-existing organizations, the Geoinformation Center and Geological Museum.
The Geoinformation Service Center will integrate the geological information and enhance convenience for every user. The Center provides reliable and unbiased information in collaboration with other research units of GSJ, and serves as a linkage between the society and GSJ's research activities. The Center works to improve the quality and usability of geological information as public property to be used for natural disaster mitigation planning, resource exploration, and environmental conservation.
The followings are major missions of the Geoinformation Service Center: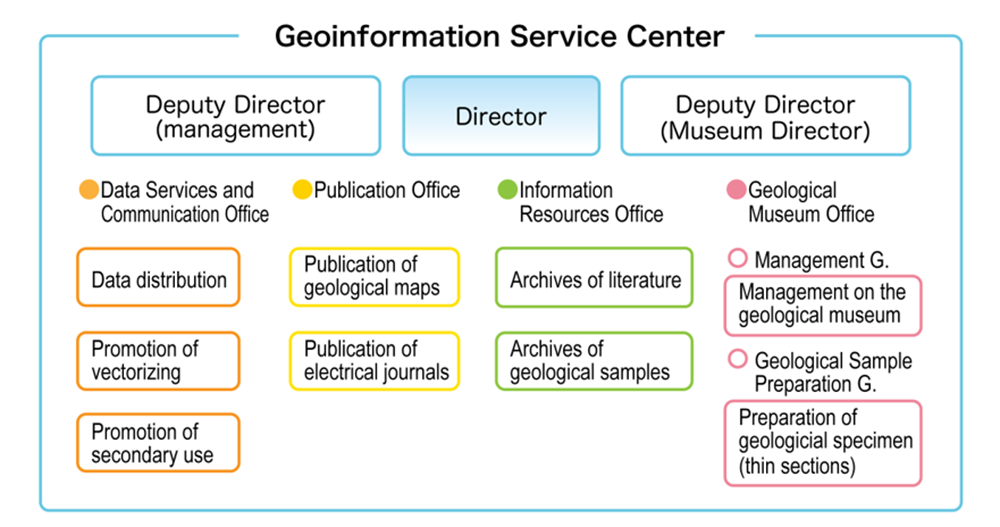 Open Data distribution(Data Services and Communication Office)
GSJ publications have recently been distributed as Open Data, through our website. Most of the geological maps are also distributed in print, CD/DVD-ROMs, and electronic forms. Vast amount of domestic map series are being retroactively digitized in raster and vector formats and are to be also eventually downloadable. Those kinds of geoinformation are provided under the Creative Commons License for user derivative works. ->SEE "Site Policy" (https://www.gsj.jp/en/license/index.html)
Links: GSJ Database Collection
Publication (Publication Office)
GSJ is one of the national institutes providing its deliverables in topographic map forms. High quality printed maps are published every year covering Japan and surrounding seas. Our journals and reports are available online and also served in exchange for hundreds of domestic and foreign institutes.
Links: Publications
Archive management (Information Resources Office)
The GSJ Library has the largest collection of geological literatures and maps in Japan. Bibliographic search service is available on our website (GEOLIS: Geological Literature Search System). A large number of geological specimens such as rocks and minerals, which were used in GSJ's research, are archived as a research material collection on earth science. The original data obtained in the research activity have also been archived to ensure the quality and reliability of the research.
Links: GEOLIS
Dissemination and research support (Geological Museum Office)
The Geological Museum provides opportunities for people to learn about the geology of Japan, natural resources, volcanoes, earthquakes and active faults, and so on with plain explanation and exhibitions of appropriate geological specimens. Special exhibitions, lectures and other events are held on a variety of geoscientific topics including a recent geological hazard.
Special guided tours are available for free. Please contact in advance for groups of 15 or more. There is a corner to sell GSJ's publications and museum goods.
Links: Geological Museum